Upcoming Exhibitions
Contreras Gallery and Jewelry
110 E. 6th. street Ph: (520) 398-6557 Tucson, AZ. 85705
http://www.contrerashousefineart.com/index.html
May 2nd. through June 24th.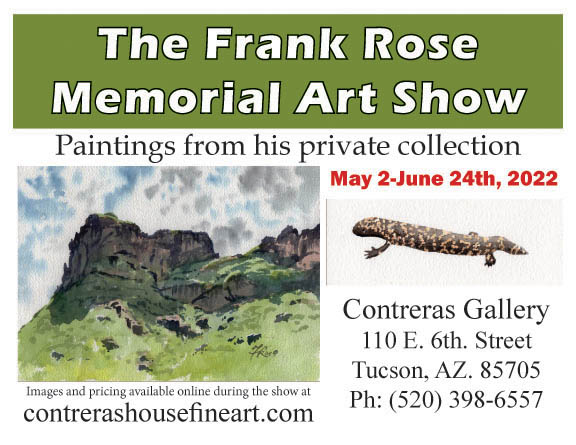 30 unseen landscapes from Frank Rose's painting collection,
July 1st. through August 26th.
"Tucson Show"
Art that pertains to all aspects of Tucson,
People, Culture, Landscapes, Architecture, Animal Life, etc.
Artists:
September and October
"Fine Art Prints"
Artists:
November and December
Gary Aagaard, Jill Bauman and David Wayne Fitzsimmons
January and February, 2023
Sylvia Garland and Ann Tracy
Abstract Art
RETURN